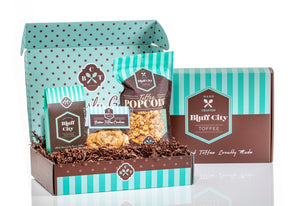 Signature Gift Box
Everything you would want! Gift Box includes the following:
8 oz Milk Chocolate Pecan Toffee - Each batch is made with the finest locally sourced ingredients of butter, sugar, pecans and milk chocolate and comes packaged in signature box.
Butter Toffee Popcorn - Our Butter Toffee Popcorn is a perfect combination of sweet and salty.  Full of buttery, crunchy toffee goodness.  We handcraft each small batch of our gourmet toffee popcorn.  Then, gently coat it in our creamy toffee sauce along with just the right amount of peanuts.
Butter Toffee Cookies - These delicious butter toffee cookies are baked with toffee bits to make them irresistible.  Some of the bits melt and convert into caramel creating an amazing nutty flavor.  3 to a package